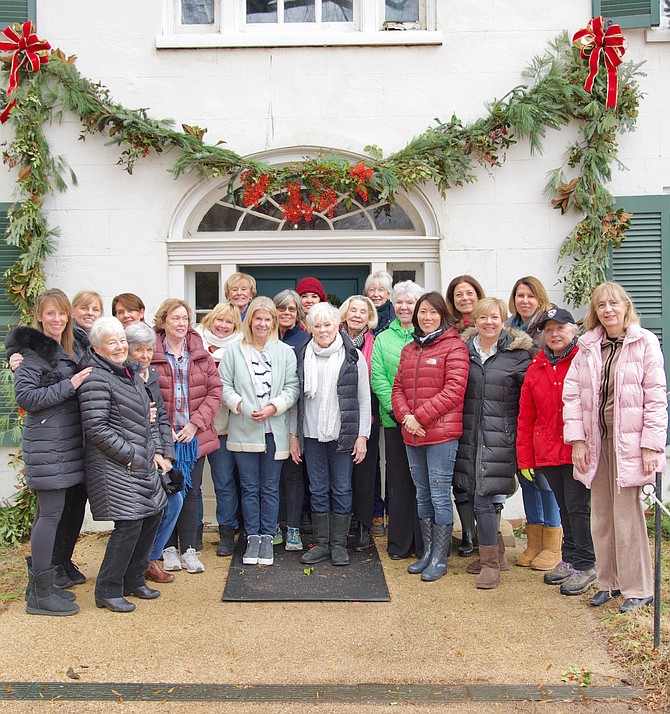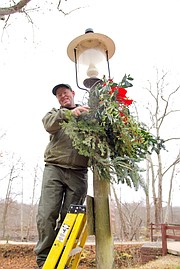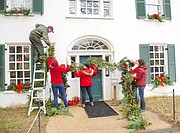 The Tavern at Great Falls is now dressed in its holiday clothes inside and out, and brimming with the spirit of the season, thanks to Little Farms Garden Club of Potomac.
"We have been doing this for 41 years, and it is one of our very favorite community service projects," says President Tricia Olsen. "It is the one time we all come together (about 40 of us) and it is truly a labor of love. The comradeship, laughter, sense of play and fun contributes to the warmth of this group and inspiration for creativity. The Tavern and C&O Canal occupy a special place in the hearts of not just Potomac residents, but the thousands of people who come for the peacefulness and wonder of nature throughout the year. At Christmas it is our way of extending our gifts to a larger community, adding to its holiday experience. I know many families who have a tradition of going for a walk on the canal in December as part of their time spent together."
Little Farms Garden Club demonstrates their talents from design, wiring together greens donated by local businesses for the 40-foot swag hung over the main entrance, to bow making, to organizing and supervising, and making the evergreen holly and magnolia swags hung on doors, inside windows and on fireplace mantels. When completed the group all gathers to watch Park Ranger Mark Myers climb the ladder to hang the swag from the second story window. They then take their official annual photo, followed by lunch inside.
"It is nostalgic having lunch there afterwards. Somehow you feel transported back in time, thinking of all those who lived, worked or visited the tavern more than 100 years ago. There is a timelessness and comfort of knowing we are part of something larger than ourselves," said Tricia Olsen.
The group was founded in 1961 with goals of fostering friendship and studying gardening and the floral arts. Once a month they meet in a member's home for presentations on gardening techniques for gorgeous landscapes, the value of insects and birds, how to design our yards to create healthier eco-systems, and of course creating floral arrangements to beautify their homes. They have now expanded wherein fifty percent of their mission is community service.